We are now going to discuss some of the top Indian bloggers making massive money. Our list is created taking into account various factors such as experience in the field, content calibration, the number of followers along with the frequency of new content.
1. Amit Agarwal
Amit Agrawal is one of the top Indian famous bloggers. He is an IIT graduate and was previously working with Goldman Sachs. He quit his regular job to start his technology-related blog, Labnol.org
Subsequently, his blog turned out to be a huge success. A few months after starting his blog, Amit started earning about INR 10,00,000/- per month.
One of his significant sources of income is affiliate marketing. Currently, Amit is one of the top Indian bloggers, earning about INR 20,00,000 to INR 30,00,000 per month. Moreover, he also works as a columnist for the Wall Street Journal and is an inspiration to many. Being a pioneer in the Indian blogging industry, he is one of the top tech bloggers in India. A majority of his blog writing focuses on consumer software and mobile apps.
In conclusion, the monthly revenue of Labnol.org is nearly about $30000 to $60000 (roughly 16 Lakhs). Its yearly revenue is around two crore rupees.
Location :
Monthly Earning: (Estimated).
Age :
2. Harsh Agrawal
Harsh Agrawal also quit his job to start a blog. His website is called ShoutMeLoud. It was founded in September 2008. It has an average of over 1.5 million page visits every day. Thus, it is safe to say that the traffic traction of the website is excellent.
As of February 2019, this top Indian blogger earns over $30000+ from his website. The major contributor to his income is affiliate marketing as well. Other contributors include sponsored articles, as well as advertisements. He also gets paid to speak at various events and to put up information about different products, such as E-books and digital courses.
He is a young, energetic and promising Delhi-based blogger. As per our research and information from various sources, Harsh is the perfect example of a young Indian who is fully independent and has a sufficient amount of money to enjoy a good life!
He talks about various topics on ShotMeLoud including starting a blog, making money from blogging, SEO (Search engine marketing), Social media marketing, Affiliate marketing, starting business, Best web hosting services, and many more. His main motive is to liberalize an aspiring blogger from their regular 9-6 job and guide them to be their own boss. His blog continues to attract numerous visitors on a daily basis.
Blogger Name:
Location:
Monthly Earning: (Estimated).
Age:
Blog/Website:
Alexa Global rank:
Rank in India:
3. Pardeep Goyal
If you're seeking financial freedom and looking for the best Indian blogs to read that teach you about finance, online marketing and carefully crafted articles, CashOverflow is a must read blog for you which is run by Pardeep Goyal.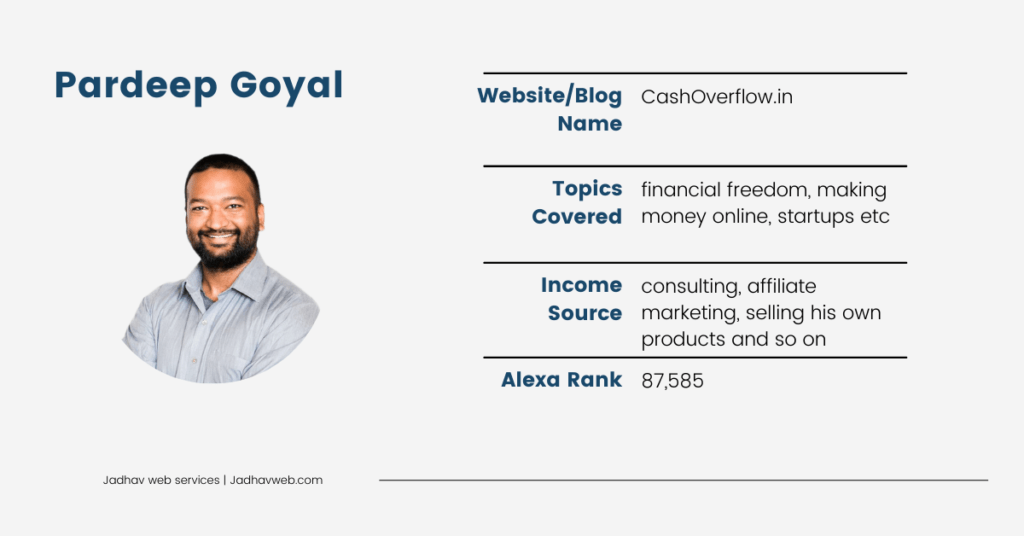 Location :
Monthly Earning: (Estimated).
Age :
4. Faisal Farooqui
Faisal Farooqui comes from a normal Indian middle-class family. Faisal went to the USA to pursue further studies and came back to India with an Idea!
Faisal founded Mouthshut in the year 2000, which is a consumer research and services web portal. Mouthshut is not a blog, Faisal is still one of the most popular Indian Entrepreneur.
Blogger Name: Faisal Farooqui
Location: USA & India.
Monthly Earning: $50,000 (Estimated).
Age: Unknown.
Blog/Website: MouthShut.com
Alexa Global rank: 5,078
Rank in India: 447
5. Shradha Sharma
Shradha Sharma is the only female blogger here to pose a tough competition to the boys here. She grew up in Patna and moved to pursue further studies.
Shradha founded YourStory.com in 2008 which was later changed to YourStory.in. YourStory is a unique platform that shares the stories of many successful Entrepreneurs, Leaders and Founders.
Blogger Name: Shradha Sharma
Location: from Patna, Bihar (works from Bangalore, India).
Monthly Earning: $30,000 (Estimated).
Age: Unknown.
Blog/Website: YourStory.com
Alexa Global rank: 7,712
Rank in India: 752
6. Varun Krishnan
Varun Krishnan, born in Chennai, Tamil Nadu is an engineering student. Varun started FoneArena in 2005 and guides the audiences about mobile phones.
Blogger Name: Varun Krishnan
Location: Chennai, India.
Monthly Earning: $22,000 (Estimated).
Age: Unknown.
Blog/Website: FoneArena.com
Alexa Global rank: 19,756
Rank in India: 1,973
7. Deepak Kanakaraju
Deepak Kanakaraju is based in Bangalore and is an electronic marketing and advertising consultant. He was motivated to start a blog after coming across AdSense and blogging within a magazine.
His website is one of the top-rated Indian blogs, making him one of the well-known Indian famous bloggers. The site is highly rated and is among the top 10 digital advertising websites in India. Deepak earns over INR 2,00,000 per month from his websites.
Blogger Name:
Location:
Monthly Earning: (Estimated).
Age:
Blog/Website:
Alexa Global rank:
Rank in India:
8. Pritam Nagrale
Another one of the top Indian bloggers is Pritam Nagrale. He started his first blog in 2004. Later, Pritam started maintaining two blogs, MoneyConnexion and SureJobs.in. He is one of the top Indian bloggers earning about USD 10,000 to USD 15,000 per month. The biggest contributors to his income are AdSense and the advertising that he carries out his blog. Today, he has a team of over 35 people working alongside him to run numerous blogs.
Blogger Name:
Location:
Monthly Earning: (Estimated).
Age:
Blog/Website:
Alexa Global rank:
Rank in India:
9. Pradeep Kumar
Pardeep is another top Indian blogger, and his website is called HellBound Bloggers. He founded this site at the age of 17. After a few years of studying as well as struggle, he managed to turn the website into a professional one. The reason for starting the blog was mostly his enthusiasm towards blogging.
He realized that more than just sharing of knowledge or publishing data, blogging was also a forum wherein quality information could be talked about and discussed.
His blog includes topics such as marketing resources, social networking advertising, Search Engine Optimization (SEO), WordPress, suggestions for small online businesses as well as E-commerce, among several other topics. Numerous distinguished bloggers are known to contribute articles to the site.
Blogger Name:
Location:
Monthly Earning: (Estimated).
Age:
Blog/Website:
Alexa Global rank:
Rank in India:
10. Anil Agarwal
Anil Agrawal is one of the top Indian famous bloggers and is the owner of a website known as Bloggers Passion. This website is focused on helping other bloggers earn a stable income via blogging. This website was started in the year 2010. Initially, the inspiration behind the setting up of this website was from some other famous sites which made significant money.
Furthermore, Anil is also known for his expertise in Search Engine Optimization (SEO). He first started his website as a hobby. Eventually, blogging turned out to be his full-time profession.
Blogger Name:
Location:
Monthly Earning: (Estimated).
Age:
Blog/Website:
Alexa Global rank:
Rank in India:
11. Jitendra Vaswani
Jitendra Vaswani is another one of the top Indian famous bloggers. While he is an expert blogger, he is also an influential electronic marketer. Before he started his career as a blogger, Jitendra was pursuing engineering and graduated in 2012.
Subsequently, Jitendra started an online marketing blog called the Bloggers Ideas. On his site, he primarily focuses on topics such as blogging ideas, SEO, tips, and strategies for increasing traffic. Furthermore, he also conducts interviews with some of the most famous search engine optimization specialists and experts. He also includes various product reviews on the website, among other things.
Blogger Name:
Location:
Monthly Earning: (Estimated).
Age:
Blog/Website:
Alexa Global rank:
Rank in India:
12. Amit Bhawani
Amit Bhawani is one of the most famous Indian top bloggers. He is known for his content on YouTube. Moreover, he is a famous blogger in India, who also runs a travel vlog on YouTube as well as TripRazor. However, his most significant project presently is PhoneRadar.
Furthermore, he also posts content to help other bloggers and inform them on how to increase their followers through his YouTube channel. He also provides tips on increasing blog traffic using YouTube. His crucial point of discussion is the efficient use of various avenues on the internet to generate revenue.
Besides Amit's website is specifically technology-oriented and throws light on the use of numerous gadgets. He writes about smartphones, tablets, and also updates his readers with the news regarding technology around the world. He is one of the Indian bloggers earning approximately USD 25,000 per month.
Consequently, owing to the popularity of his website, Amit has about 35,000-page visitors each day. In addition, his other avenues and blogs include AndroidAdvices.com.
Blogger Name:
Location:
Monthly Earning: (Estimated).
Age:
Blog/Website:
Alexa Global rank:
Rank in India:
13. Kulwant Nagi
Another one of the famous Indian bloggers includes Kulwant, a 30-year-old full-time blogging expert. He is well-known for his blogging capabilities.
Kulwant started his blogging career in 2011. He is one of the Indian bloggers earning around USD 10,000 every month. His website includes information about tips as well as strategies regarding blogging, SEO, and suggestions for boosting social networking. It also includes guidelines for WordPress and tips to make more money. The website also serves as a platform for some motivational stories and powerful storytelling.
Furthermore, Kulwant has also started his own content writing firm, AffloSpark.
Blogger Name:
Location:
Monthly Earning: (Estimated).
Age:
Blog/Website:
Alexa Global rank:
Rank in India:
14. Ashish Sinha
Ashish Sinha is another famous Indian blogger who is an IIT and an IIM graduate. He has very varied work experience. The reason he started his blog was because of his love for different technologies. His site is an area wherein people can talk about the entire technology and startup ecosystem. Moreover, his site covers everything from reviews and product information to hints, tips, hacks and upgrades.
Blogger Name:
Location:
Monthly Earning: (Estimated).
Age:
Blog/Website:
Alexa Global rank:
Rank in India:
15. Srinivas Tamada
Srinivas Tamada's website is called 9lessons and is meant for people who are interested in technical-related information. The site caters to the developer community. Consequently, Srinivas is one of the famous Indian bloggers who is earning significantly from his blog.
This blogger has not revealed his total earnings to the public. However, it is estimated that he makes similar earnings to that of Harsh Agrawal (number 2 on our list). His income is expected to be around USD 4,000 to USD 7,000 per month. This includes all stations
Blogger Name:
Location:
Monthly Earning: (Estimated).
Age:
Blog/Website:
Alexa Global rank:
Rank in India:
16. Arun Prabhudesai
Arun Prabhudesai is another famous Indian bloggers and is based in Pune. He is known for his website Trak.in. It is a tech website. He offers his insights and advice regarding startups as well as financial information.
Furthermore, he also discusses the stock market. Along with this, he also displays the latest news regarding technology and businesses. He has approximately 2 million subscribers on his YouTube channel, Trak. In tech.
His blog mostly contains information regarding tech-related news. He is also a very active YouTuber and covers content related to various smartphones and gadgets through his videos.
Blogger Name:
Location:
Monthly Earning: (Estimated).
Age:
Blog/Website:
Alexa Global rank:
Rank in India:
17. Jaspal Singh
Jaspal Singh is the founder of a website called savedelete.com. He is a mechanical engineer. His blog includes information about various applications and web tips along with tech-related news.
Blogger Name:
Location:
Monthly Earning: (Estimated).
Age:
Blog/Website:
Alexa Global rank:
Rank in India:
18. Imran Uddin
This is one of my favorite Indian blogs that mainly covers all the news related to technology. This is the perfect place where you come to know about the phones, accessories, technology, new launches in India etc.
This Indian blog is run by Imran Uddin and was launched in 2011.
19. Archana Doshi
It is a leading recipe and food discovery blog where you can discover meal plans, diabetic meal ideas, dinner ideas, lunch box ideas, and more.
20. Jignesh Padhiyar
Do you want to follow exclusive updates from Apple? From iPhone, iPad and MacBook Pro, Apple Watch to AirPods, you can find comprehensive information related to Apple.
Jignesh Padhiyar is the founder of iGeeksBlog which was launched in 2012 and it is one of the most popular iOS blogs in India and if you want the latest information around iPhone & iPad apps and accessories reviews, you must check out and follow his blog
21. Dassana
Veg Recipes Of India is followed by over 2 million people on Facebook and it also has a HUGE following base on YouTube. If you're a foodie and mostly prefer veg recipes, you will love this blog which is run by Dassana, a female top food blogger from India.
Veg Recipes of India is probably the most popular food blog in India which has over 1800 food recipes and the great thing about this blog is everything you find including all vegetarian recipes are tried and tested.
If you want to try both Indian recipes and vegetarian recipes that you can use to try breakfast, lunch, snacks, dinner etc this best Indian blog is a must read for you.
22. Anuradha Mahindra
VerveMagazine is an Indian premium luxury lifestyle blog that covers fashion, style, beauty, travel, and food. It was founded by Anuradha Mahindra in 1995 and she's the wife of Anand Mahindra who's an Indian billionaire businessman and the chairman of Mahindra Group.
23. Anuradha Goyal
Inditales is a top travel blog from India where you'll discover top Indian and worldwide attractions, hotel reviews, restaurant reviews, travel videos, and more.
24. Piunika Sharma
Piunikaweb.com is the FASTEST growing technology blog in India which was launched in 2017. It gets approximately 3.27M pageviews per month and featured in some of the biggest publications worldwide such as Foxnews, Gizmodo, Wired, TechCrunch, Forbes, The Verge, Engadget, GSMArena and so on.
25. Ankit Singla
Ankit Singla is an emerging Indian blogger who's known for creating highly useful and informative content around blogging related topics. He is also active on social media sites like Facebook where he shares a lot of practical blogging advice.
His latest blog Master Blogging is primarily focused on covering making money, blogging and SEO related stuff and almost every blog post he writes is filled with practical advice. If you want to become a successful blogger, you should definitely check out his content.
26. Malini Agarwal
This is one of the most popular blogs around fashion and lifestyle. The #1 thing about this blog is that it's the most popular blog that covers Bollywood related stuff including news, gossip and so on where you'll also discover a ton of updates and tips on fashion, lifestyle, better living and so on.
This amazing blog is run by Malini Agarwal who is an Indian digital influencer, TV host, entrepreneur and best-selling author of the book "To the Moon: How I Blogged My Way to Bollywood"
27. Anand Khanse
This is the widely renowned and well recognized blog across the world which covers all the latest Windows 10/8/7 tips and tutorials, news, freeware downloads, reviews and so on.
This amazing blog is created and owned by Anand Khanse who was a Microsoft MVP Awardee (2006-2016), a Windows Insider MVP and an end-user Windows enthusiast.
28. Nandini Shenoy
If you're looking for the top entertainment blogs to follow in India, Pink Villa is for you. If you're a fan of Bollywood news, gossip and fashion, this blog run by Nandini Shenoy is exclusively for you.
This is also one of the oldest Indian blogs which was launched way back in 2006 and has been publishing some of the great and trending topics around entertainment and Bollywood since then.
29. Anjali Shah
Anjali Shah is a food blogger, board-certified health coach, and owner of The Picky Eater blog which is a healthy food and lifestyle blog.
Through her blog, she regularly shares healthy yet tasty recipes made with wholesome ingredients. She has also been featured on major sites like Oprah.com, Women's Health, Cooking Light, Reader's Digest, CNN, Food Network, SHAPE, BuzzFeed, and SELF.com.
30. Dr. Hemapriya
My Little Moppet is a popular parenting blog in India where you can discover parenting tips, baby meal plans, recipes, and more.
31. Shruti Acharya
Artsy Crafty Mom is an Indian parenting blog that covers hobby, arts and crafts ideas for kids. If you want to discover family fun activities, kid's art ideas, and seasonal crafts ideas, you should not miss this blog.
32. Manish Chauhan
Passionate about finance in his blog at JagoInvestor, Manish has been a part of dozens of workshops on investing and has authored two famous books as well, "How to be your own financial planner in 10 steps" and "16 personal finance principles every investor should know". His blog provides investors with financial tips and practices to improve their lifestyles.
33. Arvind Passey
Possibly the most sophisticated blogger on the list, Arvind Passey is a former IMA cadet, critically acclaimed journalist and poet. Shri Passey's work has been featured in The Education Post, The Huffington Post, Business Insider, MarketingBuzzar and more.
34. Shivya Nath
Living the life of a digital nomad, Shivya is a freelancer, travel blogger, storyteller and social media entrepreneur who left her job with her dream of traveling around the globe. Her book "TheShootingStar" got listed among the best sellers, which is filled with experiences from her journey. Channels like TEDx, BBC Travel and many more have also featured her for her best travel writing.
35. Siddharth Sharma
SEO guru Siddharth Sharma, aka Sanu Siddharth, started blogging way before any of us could even think of it. Gifted with multidimensional skills, Siddharth is the co-founder of popular blogs like OnlyLoudest and many more.
Siddharth plays with SEO, SMM, Internet Marketing, and E-commerce and is hugely acclaimed as one of the finest blogging talents in India.
36. Rahul Setia
Rahul started his blogging journey as a hobby in 2014  with his first blog TechBlogCorner. He aims to help newbies grow and earn money by blogging. Rahul also teaches his readers on how to do better on technology and digital marketing issues.
37. Akshay Hallur
Akshay, another fine talent, in his blog BloggingX provides his readers with tried and tested strategies to grow their blogs and businesses through SEO, affiliate marketing, etc.
Akshay is also a digital tutor and he provides newbies with courses on blogging, SEO and other digital marketing techniques, and has also addressed various digital marketing conferences. He developed a passion for blogging from his college days. After he got a steady source of income from blogging, he discontinued his studies and became a full-time, professional blogger.  Today, he helps businesses and budding bloggers in promoting their products and works using his proven and effective strategies. Apart from BloggingX, he also owns several other online ventures like InfoSparkle.
38. Dipti Tiwari
Dipti is a Chhatisgarh-based beauty blogger. She started blogging around a decade ago and since then has been 'nailing' it. She writes about beauty, lifestyle and fashion-like topics on her blog Gorgeously Flawed.
39. Iftekhar Ahmed
Iftekhar founded iftiSEO in 2014 and since then he hasn't stopped for a bit. In addition to this, he operates other SEO related activities like mentorship and all. He has been helping businesses and blogs grow to the next level using simple, viral and effective marketing strategies that involve SEO and social media at a core level.
40. Jyoti Chauhan
An SEO expert at core, Jyoti has been writing on UpdateLand since 2013. Her primary focus is on topics like engine optimization tips, seo site lists, how to make money online and how to get traffic to your blog and your website etc.